We're thankful for charity boat donations from Boat Angel and used car donations that have helped us fund these FREE DVD's. Please keep the requests pouring in, we will keep selling donated cars and boats to fund these worthy projects!
We want these DVD's to be given out freely and so we don't send out single copies. Instead the minimum we will send is 10 and we simply ask that you give them out to your family and friends! If you are a church or organization in need of more than 10 copies please call our office 1-800-700-2628. There is never any cost to you.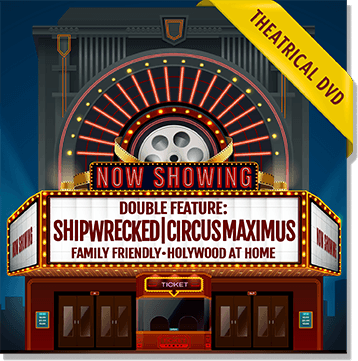 Our newest FREE DVD offering is a double-sided disc with two Donkey Ollie Favorites, "Shipwrecked" and "Circus Maximus", on side one; side two is graced with two of our latest animated releases, "Jake and the Giants" and "Two Pennies". We've made hi-res versions of these four films and they are also open-captioned.
Due to prohibitive shipping costs we can only send these to people in the USA (except Puerto Rico as it has been our recurring experience that our packages get returned undeliverable). International shipments are very costly for us. Instead we are working on a separate method to allow people to direct download the DVD image files so that they can burn them to DVD themselves with a computer. Please stay tuned for that!
PLEASE double-check your address before submitting so we get your DVD's to you!